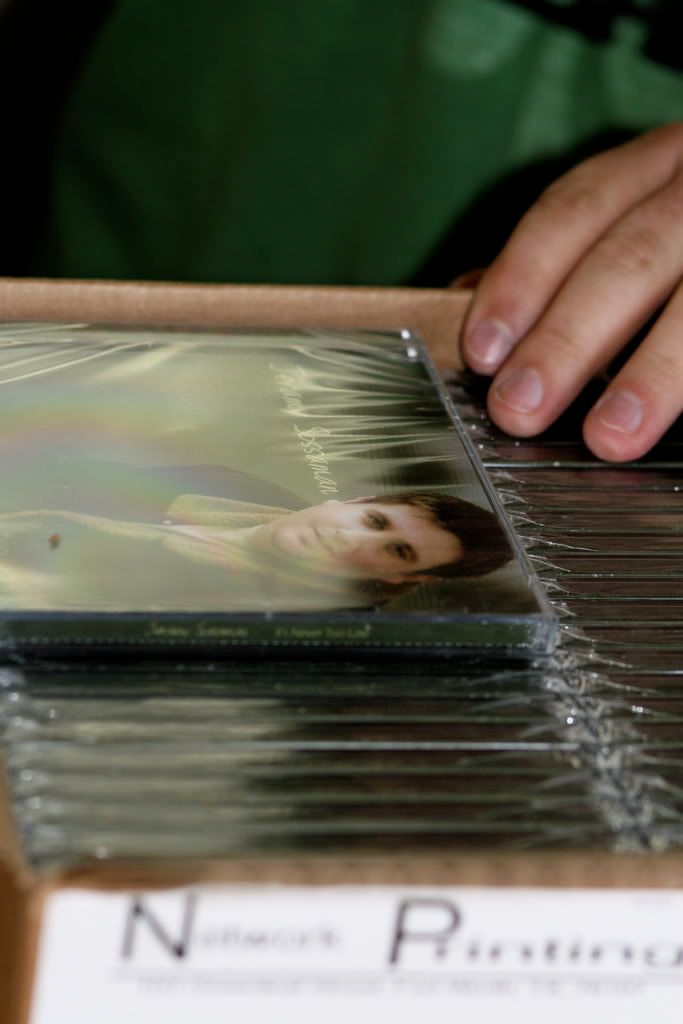 Well....I can't believe it....but the cd's arrived today! After a near miss on Friday and an agonizing weekend....the FedEx truck pulled up today. So now I can feverishly put them in mail to all the special "mail to" folks and I can finally sleep easily. I've got a big week coming up. I'll be doing my very first radio interview on Wed. morning on
The Candle
, 89.9FM for those of you in the bay area, but if you're out of that...you can listen online. Be sure and check it out....I'll be on from 7:30 - 8:30am. After that, it's off to rehearsal....my good friends Kevin, Steve and Jared will be playing with me on Friday night. I can't wait!!! I'm still a little nervous that people will actually show up....I know, I know....Sharon tells me to snap out of it....but I can't help it. I know it will be a fun night.
It's a little strange...as I stared at the boxes in my kitchen of all of those cd's....in those boxes are the product of so much work and time and energy. I know that the songs came from an honest place....and I just really hope that they will connect with you all as you listen.
I can't thank you all enough for your prayers and encouragement as this project unfolded. It's been such a neat experience for me, and I'm so glad that I was able to share it with you.
Alright...well, I'm done. I'm going to get some rest. Enjoy the last dose of the Monday music clips on
www.jeramysossaman.com
and be sure and come out for the show on Friday. See you soon.
Take care and God bless...
J